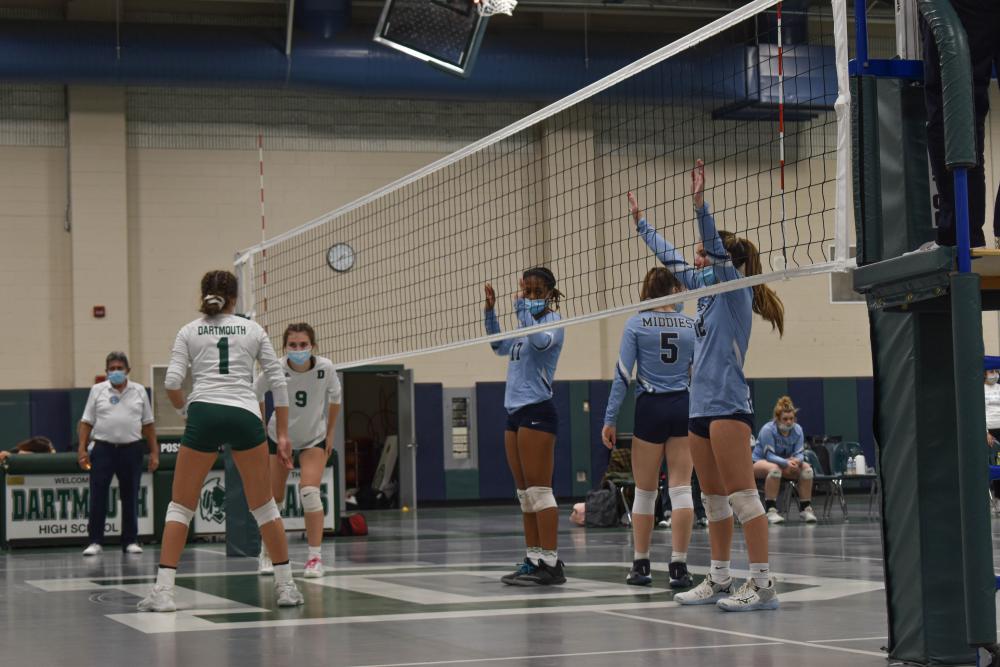 Dartmouth High Volleyball Advances to Division Tournament
After a two-year hiatus in the playoffs, the Dartmouth High volleyball team plays in Division 2 of the Massachusetts Interscholastic Athletics Association. fall tournament after beating Dracut High in straight sets on November 4.
"It was too close to be comfortable," head coach Rachel Lassey said of the game. "We didn't settle in one hundred percent, but we did."
Dartmouth started the first set 3-0, going on with eight unanswered points. After an offensive surge from the Middies, the Indians would win the set 25-21.
Things remained tight throughout the second set, with Dartmouth edging Dracut 25-20 after a few round-trip exchanges.
After starting the third set 6-2, the Indians returned to their typical rhythm and finished the Middies 25-15.
"We made way too many mistakes," said Lassey. "Fortunately, they know how to run in tough situations and do what they need to do."
Lassey attributes the close game to "the nervousness of the first game". She noted that this year's squad, which has grown to 15-3 this season, has very few players with playoff experience due to last year. season of the Covid era shortened and without a tournament.
"I'm forgetting a bit that they've never played in a tournament before," she said. "I hope it's behind us and we can come out more confident in Game 2."
The coach said she plans to bring more noise and intensity to the team's upcoming workouts to adjust them more to the playoff atmosphere.
"It's a little weird to adapt to it, but you have to learn to feed off that noise and use it to your advantage," said senior captain Sorelle Lawton.
The outside hitter managed to get six kills, four aces, 12 serves and eight digs in her very first full playoff game. Lawton's previous experience was coming off the bench in second year in the Indians' loss to Oliver Ames in the 2019 Division 1 semi-finals.
Junior captain Ava Crane had 16 kills on the night, as well as 22 digs. Crane was also one of the few players this year to have playoff experience, playing as a freshman on the 2019 squad.
She said that while things were sometimes volatile, it's a good learning experience as the team prepares for their next game.
"We just have to work a little bit more together to get some extra confidence," Crane said.
The girls can't wait to move on to the competition, and many feel that winning over Dracut is just the start of something special.
"We have a really good group of girls – we're all very close," Lawton said. "I feel like we can go pretty far this year. "
The Indians will face Canton High in the round of 16. The date and time have not yet been set by the MIAA.