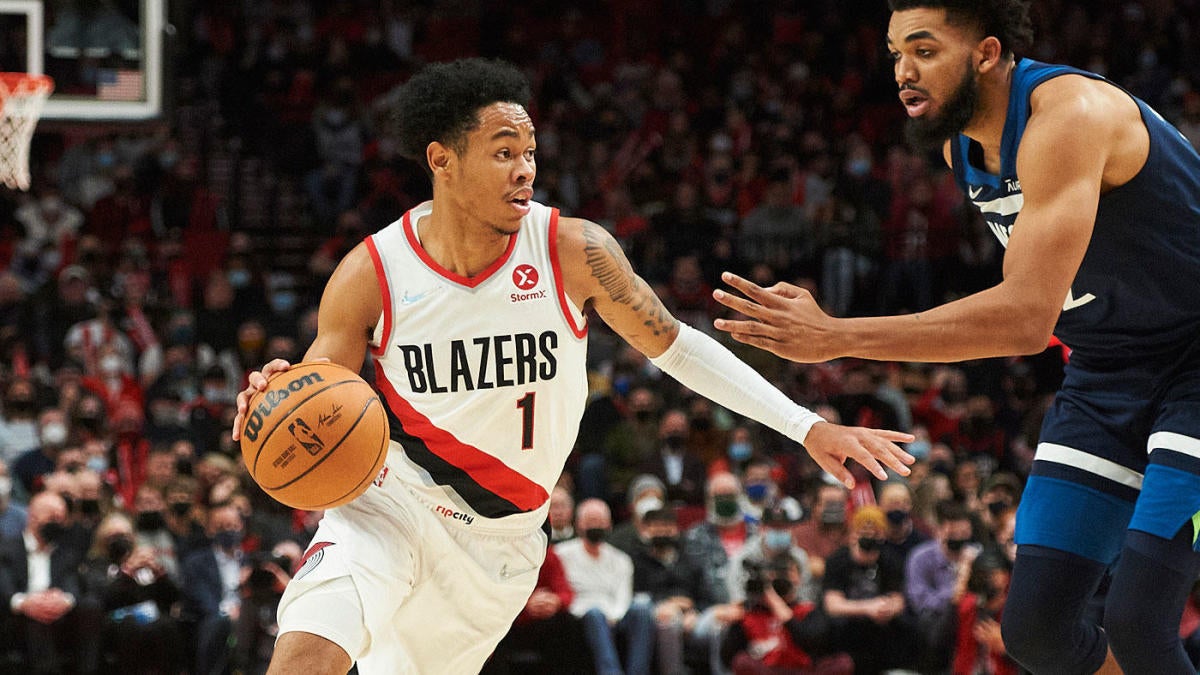 Fantasy Basketball Week 13 Waiver Wire: Anfernee Simons, Nicolas Claxton's Best Additions, Plus Calendar Notes
Salvation! Welcome! Lots of promising mics this week, so let's go.
Frankly, it was a fun article to write. While the rest of the United States is still experiencing a wave of COVID, the NBA outbreak is clearly slowing (finally) – making it easy to continue to focus on players whose growing fantasy value is unrelated. to this interminable disease.
On top of that, there are several excellent prospects available, many of whom have great potential to stay on the rosters for the remainder of the season. Fantasy basketball has been unusually difficult over the past month or so, but this silly hobby is slowly starting to feel like it's meant to be starting over again.
As usual, players in this article must be registered in less than two-thirds of the CBS leagues. The players are listed in the order in which I recommend adding them, assuming they are a good fit for your squad as well.
Additions for all leagues
Anfernee Simons, Trail Blazers (52% enrolled)
I'm in full Damian Lillard panic mode which causes Simons to skyrocket through my ranks for the remainder of the season. The Blazers are only one game away from the play-in, but they appear to be in a completely separate level from the West's top nine. Lillard is suffering from a strange abdominal injury and appears not to have fully adapted to the new NBA ball yet. If there's ever been a year to let him rest (and improve draft positioning along the way), this is it. Basic logic, combined with recent reports – in particular this from Sean Highkin from Bleacher Report – he made me think that Lillard is going to sit a lot more than the four games he has already been excluded for.
The Blazers have 45 games to go. If Lillard is away for a month (including the two he has already missed; that is, from 01/01/2022 to 02/01/2022), that's 14 Following missed matches. If he's out until the All-Star break, that's 22 games. These hypothetical return dates have Lillard missing between a third and a half of the remaining games. Plus, at this point Portland is likely to be even further removed from the playoff race, encouraging an even longer absence and more load-handling DNP if and when he returns. If I read this correctly, Simons will probably play at least half of his remaining games as a starter with Lillard on the sidelines. It's a huge window of opportunity.
And I liked Simons even when Lillard was active! Simons has been in and out of that column all season, and he's been a big addition whenever Portland's backcourt is limited by injury. He's played at least 23 minutes in 20 games this season, averaging 29.0 minutes per game – a large sample size and easily reproducible workload as we move forward. In those games he is averaging 16-3-3 with 2.8 3s. And he's been even better than that starting the last two games with Lillard, scoring 35.5 points (!) And 7.0 assists.
Simons is an all-place, no hesitation, to add.
Nicolas Claxton, Nets (47% enrolled)
Claxton is still recording solid minutes, 27.7 in the last six games, even though the Nets are now almost in great shape. He finally starts in front of LaMarcus Aldridge. Claxton plays almost all of his minutes next to James Harden, and that's a good thing – that says the coaching staff saw the same Harden-Claxton synergy as I did, and they're acting on it (and the minutes de Harden are not going anywhere). Since Christmas, Claxton has played 151 of his 166 minutes alongside the former MVP. Claxton is an elite per minute producer and one of the best sources of blocks you will ever find on the waiver thread. It's good, not great, in points leagues – but it's a staple in category formats.
Cameron Johnson, Suns (61% enrolled)
Another week goes by, and with it three more Johnson fantasy lines. His line from last week is 19-5-1 with 4.0 3s and 1.7 shares. In the 10 games since Devin Booker's return from his hamstring injury, Johnson has maintained 17-6-1 with 3.5 3's and 1.4 shares. I've been drumming him for weeks, and his sign-up rate is high enough that we can soon ignore him here. But in case you missed those calls to action, the tl; dr is I think Johnson is likely to stay on the rosters for the rest of the season as a low end top 100 guy.
Herbert Jones, Pelicans (54% enrolled)
Like Claxton, Jones is a returning favorite in this column who maintains his value even though his teammates are in good health. His value jumped when Brandon Ingram missed a few games, but Ingram is back for 3 games and Jones maintained 33.7 minutes per game, accumulating 11-5-3 and 4.3 actions (!). He is mostly a defensive specialist, but he does enough elsewhere to only really hurt in points. In the deep leagues, he's an add-and-hold for the rest of the season. He is more marginal in the standard or shallow settings, but I retain him in some 12 teams.
Omer Yurtseven, Heat (65% roster)
Yurtseven appeared ahead of Johnson and Jones in last week's column, and he was arguably better since his release than before. The only reason I'm dropping it here is because Yurtseven is almost certainly a short- to mid-term addition, while I think the players above are likely to stay on the rosters for the long haul. But in the short term, Yurtseven is unquestionably more valuable than Johnson or Jones. Since joining the starting lineup, he's averaged 13-15-2 with 1.3 steals. He's playing well enough to stay the starter when Dewayne Dedmon (knee) returns – which could be any day now – but the eventual return of Bam Adebayo (thumb) will likely send Yurtseven on waivers.
Kevin Huerter, Hawks (39% enrolled)
I know, I broke a record on this guy. At the start, he averaged 14-3-3 with 3.4 3s and excellent shooting efficiency. He doesn't do much defensively, and none of those numbers are obvious, but most teams probably have at least one worse player than him.
Rajon Rondo, Cavaliers (25% enrolled)
Covered Rondo in detail last week, and it still hasn't made its post-trade debut in Cleveland, so nothing new to report. The short version – Rondo is old so don't expect too high, but there are plenty of opportunities and he showed last year that he can still be a top 20 passer, even in a matter of minutes.
Larry Nance, Trail Blazers (50% enrolled)
Last week's best addition was injured on Wednesday and is expected to be missing next week. Assuming he comes back in a week, he's good enough to add, hold, or pick up if a teammate gets impatient. That said, not everyone is in a position where they can afford a week without production from a waiver perspective. Hence the vertiginous drop from the top to the bottom of this list.
Other recommendations: Bismack Biyombo, Suns (4% enrolled); Terrence Ross, Magic (42% enrolled); Coby White, Bulls (45% enrolled); Malik Monk, Lakers (44% registered); Patrick Beverley, Timberwolves (47% enrolled); Gary Harris, Magic (34% enrolled); Obi Toppin, Knicks (21% registered); Brandon Clarke, Grizzlies (25% enrolled); Jalen Smith, Suns (20% enrolled); Maxi Kleber, Mavericks (10% enrolled)
Program Notes
The NBA is following one of its busiest weeks with one of the quietest. Only one team has a two-game week, the Lakers, but there are also very few four-game weeks. Only 11 teams play four times.
Quiet week means playing against someone with just two games – either a Laker, or someone likely to miss a game and come back midweek – isn't as dangerous as it usually is. . The flip side is that players with four games are very valuable.
Day to day, it's a mostly balanced schedule. On Saturday there are 10 games which is somewhat busy, but most daily roster managers will still have room to start a waiver wire pickup. Ditto for Wednesday and Friday, which have nine games.
On the other end of the spectrum, Sunday only has four games, while Thursday has five and Tuesday has six. This gives a noticeable boost to players in action on any of these games, especially those in action on Sunday. The Warriors and Nuggets both have four game weeks, including games on the three quiet days (Tuesday-Thursday-Sunday); the Timberwolves also play all three days, but they only have three games.
For those with strict acquisition limits, a few things to consider. The Warriors are the only team to end the week with three games in four nights. But 10 teams have 3-for-4s Wednesday through Saturday, so managers have plenty of options to target for players and then give up for a Sunday streamer. Plus, the Nets play four games in five nights, starting on Sunday in Week 12. This means managers can use a Week 12 pickup on Sunday that prepares them to start Week 13 with a 3-in-1. 4. Finally, the Bulls have a 4-for-5 midweek, Tuesday through Saturday.