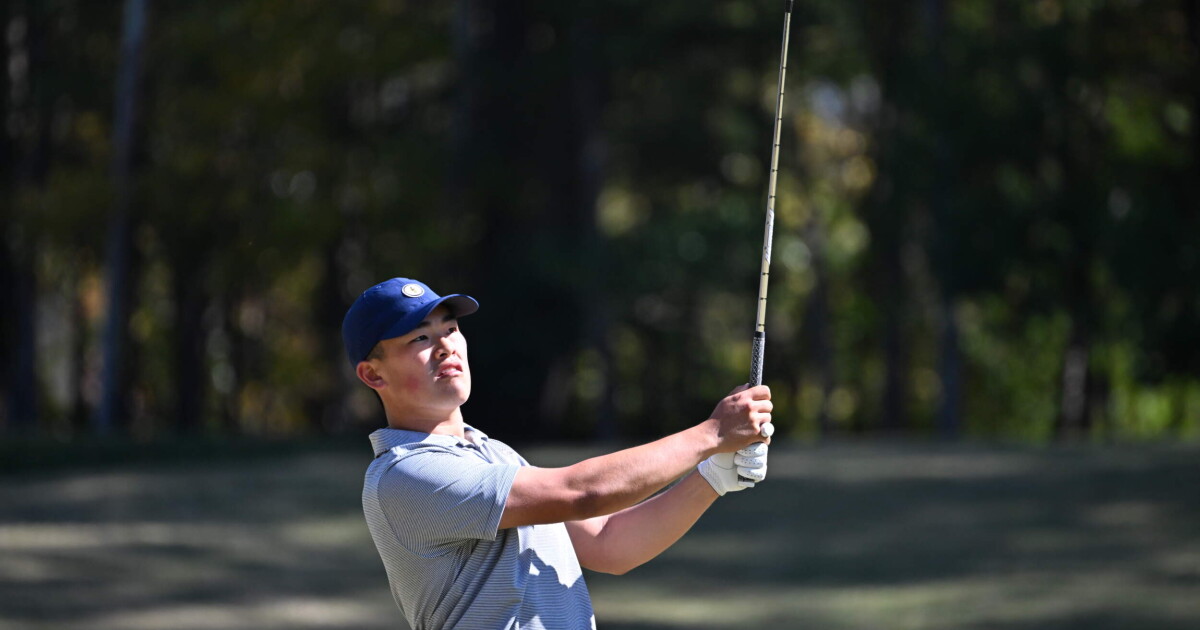 Jackets take the lead 36 holes at the Golf Club of Georgia – Men's Golf – Georgia Tech Yellow Jackets
Alpharetta, Ga. – First-year student Hiroshi Tai took sole possession of the individual lead by shooting a 3-under 69 on Saturday, and the No. 13 Georgia Tech scored a team total of 9-under 279 and opened a three-stroke lead in the run by team after 36 holes at the Golf Club of Georgia Collegiate Invitational.
Seeking their first victory of the fall season and third in the history of their annual home event, Tech extended their lead to 10e-ranked Tennessee a three on the last hole when he was a junior Christo Lamprecht drained a 60-foot putt from the edge of the 18e green for an eagle. Lamprecht and senior Connor Howe also posted 69s on Saturday for Tech.
The final round begins at 9 a.m. Sunday, with Tech's B team starting on the first hole at 9:55 a.m. and the A team following at 10:50 a.m. The two-time winner of this event, the Yellow Jackets have not won it again since 2012.
TECHNICAL RANGE – Tai, who signed up for Tech in January after a two-year stint in the Navy from his home country of Singapore, made his first bogey of the tournament on the third hole but played the back nine at the Golf Club of Georgia three strokes under par. It is 10 under par 134 over 36 holes.
Lamprecht's final eagle capped an upside-down back nine, but the junior from South Africa's George played in front at 3 under par for his 69 and is tied for 13e up individually at 139 (-5). Howe birdied six holes against three bogeys carding his 69, and the Ogden, Utah senior is tied for 17e up to 140 (-4).
Senior Andy Mao (Johns Creek, Georgia) provided the Jackets' fourth tally on Saturday with an even par of 72.
Tech remains the tournament leader in total birdies (45) and par-5 scores (-24).
Tech's B team acquitted themselves well again on Saturday, posting a total of 284 under par and completing 36 holes at 567 under par. This group outperformed 12e-ranked Alabama (-5), No. 7 Virginia (-4) and No. 6 Texas A&M (-1) along with four other top-50 teams. Senior Ross Steelman (Columbia, Missouri) and second Benjamin Reuter (Naarden, Netherlands) each shot 2-under par 70 on Saturday to lead Team B. Reuter is tied for fifth individually after 36 holes at 6-under par 138, while Steelman is tied for 13e at 139 (-5).
Christo Lamprecht (right) celebrates his 60-foot eagle putt on the 18th hole with assistant coach Devin Stanton. (photo by Danny Karnik)
TEAM RANKING –Georgia Tech, with a 36-hole total of 555 (-21), needed another strong round Saturday to stay ahead of Tennessee, which shot 16-under-par 272 to move into second place. The Volunteers drew one stroke behind the Yellow Jackets before Lamprecht's final eagle and finished the day at 19 under par 558.
Defending champion Pepperdine posted an 8-under 280 round and moved into third place at 559 (-17), with No. 5 Stanford (561, -15) and Clemson (562, -14) just behind.
Georgia Tech B-team (567, -10), Washington (568, -9), #12 Alabama (571, -5), #7 Virginia (572, -4) and #6 Texas A&M (573, – 3) complete the top 10 in the field of 14 teams.
INDIVIDUAL CLASSIFICATION –Yellow Jacket freshman Tai is 134 (-10) over 36 holes and a one-shot lead over Tennessee freshman Caleb Surratt, the No. 47-ranked player of the country who carded a 67 on Saturday and has a tournament total of 135 (-9). Pepperdine's William Mouw and Washington's Bo Peng, who each shot 69 on Saturday, are tied for third at 137 (-7).
Reuter, the second Tech, is among eight players tied for fifth at 138 (-6), a group that includes Stanford's No. 3 Michael Thorbjornsen and Virginia's No. 4 Ben Davis.
Tech's Lamprecht and Steelman are in a four-man squad tied for 13e at 139 (-5), while Howe is one of three tied for 17e at 140 (-4).
Fifth-year senior Connor Howe talks about his second round at The Golf Club of Georgia and what it would mean for Tech to win their home event for the first time in 10 years.
TOURNAMENT INFORMATION – The Golf Club of Georgia Collegiate, formerly known as the United States Collegiate Championship, is played at the local Yellow Jackets club. The tournament is played exclusively on the 7,092-yard, par-72, 18-hole Lakeside course each day Friday through Sunday. Free entry.
Of the 13 teams competing at Golf Club of Georgia Collegiate played in NCAA Regionals last spring, six qualified for the NCAA Championship, including 2021 National Champion Pepperdine and perennial ACC powerhouses Clemson and Wake Forest, as well as traditionally strong Western teams Southern California, Stanford, Texas A&M and UCLA. Seven teams are currently ranked in the top 25 of the Golfstat rankings – Alabama (11), Georgia Tech (13), Pepperdine (20), Stanford (7), Tennessee (10), Texas A&M (9), and Virginia (8). Among the individuals, the field has 18 players ranked among the top 100 of the latest Golfstat ranking.
Georgia Tech's 10 players compete in two teams, the main team made up of the top five players and a B team made up of the rest. Team B will also compete for a team score.
TECH'S GOLF CLUB OF GEORGIA COLLEGIATE HISTORY – Georgia Tech has won the Golf Club of Georgia Collegiate twice in the event's 15-year history, in 2010 and 2012. James White, who set tournament records for 18-hole scoring (62 ) and 54-hole score (204, broken in 2014), won medal honors in 2010, while Ollie Schniederjans took it in 2013 for Tech's only individual titles.
Clemson, Oklahoma State, Southern California and Texas have also won twice. The Tigers won the inaugural title in 2006 and again in 2009, the Longhorns won in 2014 and shared the title with Virginia in 2016, the Cowboys won in 2013 and 2017 and the Trojans in 2008 and 2019. The tournament does not was not played in the fall of 2020 due to COVID-19, and Pepperdine won the title in 2021.
The Yellow Jackets finished tied for sixth last fall in this event and have finished in the top five four times in 15 years.
Round 2 in pictures
Pictures of Danny Karnik
---
Alexandre-Tharpe Fund
The Alexander-Tharpe Fund is the fundraising arm of Georgia Tech Athletics, providing scholarships, operations, and facilities support for over 400 Georgia Tech student-athletes. Help develop Georgia Tech's Daily Champions and help the Yellow Jackets compete for championships at the highest level of college athletics by supporting the Annual Athletic Scholarship Fund, which provides scholarships directly to Georgia Tech student-athletes. To learn more about supporting the Yellow Vests, visit atfund.org.
ABOUT GEORGIA TECH GOLF
Georgia Tech's golf team is in its 28the year under head coach Bruce Heppler, winning 70 tournaments during his tenure. The Yellow Jackets have won 18 Atlantic Coast Conference championships, made 31 NCAA championship appearances, and been national runners-up four times. Connect with Georgia Tech Golf on social media by liking their Facebook page or following on Twitter (@GTGolf) and Instagram. For more information on Golf Tech, visit Ramblinwreck.com.