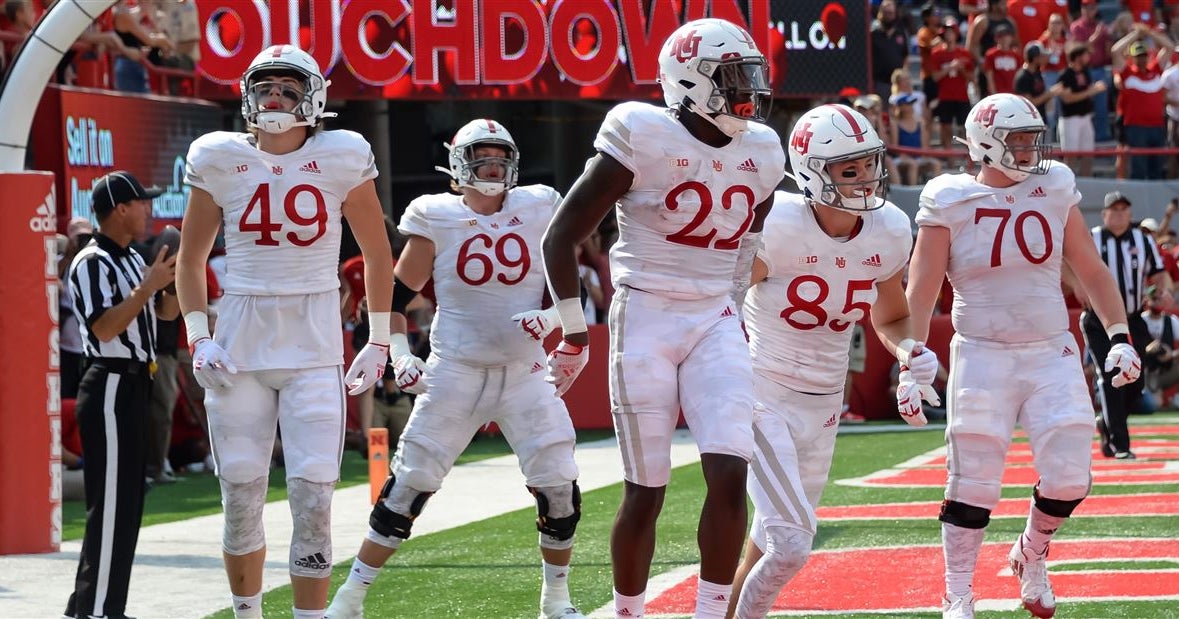 Lubick likes Husker RB's progress, but the search for a clear dude remains
Matt Lubick feels great in the running back position, while acknowledging that a clear top back has yet to be made evident.
"We think we have four guys who can run the game," Husker's offensive coordinator and wide receivers coach said on "Sports Nightly" Thursday night. "You would like to have a guy who completely break up. That hasn't really happened yet. Don't throw anyone under the bus cause they all played well sometimes. But you would like to see a guy, 'hey, this is the motivation to win the match, who is this guy? '"
Saturday's game against Oklahoma, No.3, offers another chance for clarity on that front.
Lubick thought Markese Stepp took a step forward a few games ago, going for over 100 yards against Fordham, smashing a few tackles on a physical run. In the game against Buffalo, the coach thought Gabe Ervin stood out and Rahmir Johnson had his moments too. Sevion Morrison, whose home state is Oklahoma, was also part of that mix.
"As a manager you can't have enough running backs because this position takes away the most penalties from everyone on the football team. So I'm happy with their progress."
He also thinks they have done well with some pro passes that sometimes go unnoticed.
"We have to keep giving them the ball in good situations too. The first game I felt bad because there wasn't a lot of space to make the football work. And I think the offensive line did a better job creating holes, and as coaches I hope we did a better job creating games to give these guys some space, where we can actually see their talent and let them run football. "
While the O-line is often the focal point of game inconsistencies, Lubick said it comes down to everyone.
"It's the ball carrier who has the right path, it's the receivers blocking the perimeter. It's being able to throw the ball so they have to actually play for cover. The running game, yes, we have to be more consistent, but we have to be more consistent everywhere.
– Lubick said each side is building another in the offensive. If one part is not quite at full speed, the other suffers. "If we can throw the ball we can get the ball to run better. But we get back to basics like we always do… block, pry, take the ball out low, make sure our guys don't think so much… It's a constant battle as a coach, because you want to play this game or this game or this game to look really good. But it has to be something that your guys can understand, function and play on a level. raised. "
– The return of Travis Vokolek couldn't hurt the racing game either. The tight end missed the first three games with an injury. While Lubick expressed hope earlier in the week of his return, he hasn't given up on the merchandise if that happens during his radio appearance.
"He loves the touch. One of the more physical tight ends I've been around.… No doubt his presence helps us, but I'm happy with the other tight ends," Lubick said, giving props to Austin Allen, Chris Hickman and Chancellor Brewington. "But yeah, having Travis healthy will be a big deal when we get him healthy again."
– When coaches talk to recruits who arrive at positions that will have returning starters, nothing is ever promised, but "we promise them the opportunity to start, "Lubick said. Recruits are told that they will get reps with 1s and 2s, and there will be a plan in place to mentally catch them up in the system.
Then it's up to the player. "At the end of the day, I always say to our players, 'Hey, who do you think determines who plays? Do you think it's the coaches or the players? We want to face the best players. So they think about it for a moment and (know), "I control whether or not I play by the way I train and play. "
– Let the Huskers play guys like Gabe Ervin and other newcomers, Lubick thinks this is a selling point for recruiting.
"Because they say, 'Wait a minute, Samori (Touré) wasn't here the year before and he comes in here and starts.' So the coaches are telling the truth. They will give you the opportunity. Now the opportunity is one thing. Playing time has to be earned. But we're pretty honest about it: "This is what it is, we think. that you can help us and help you "gonna have the opportunity like this guy had the opportunity …" And our players here know that we are always trying to improve, and they want better players around them. So we're always going to go out and try to find the best players we can. They know that just because I started last year doesn't necessarily mean I started this year. "
– Real first year receivers Kamonte Grimes, Latrell Neville and Shawn Hardy are currently working on the Boy Scout Team. Lubick said he just got his freshman report on all these guys and they were all doing well in class. On the pitch, the depth at the post at the moment prevented these guys from playing. "So that's a good sign of how guys are adjusting. Always have a smile on your face."
On Friday, the team was going to host the first "young guys scrum" of the season, which became a popular thing during the Frost era for everyone. Lubick noted that old folks like to take risks on who will stand out and really get started.
"We didn't do it the first two weeks just because we didn't have enough healthy bodies with the youngsters," Lubick said. "But now we think so. Tomorrow I think our older guys are excited (to watch it) than our younger guys. But it will be fun. It will be a good opportunity for these guys to go out and play football. soccer."
It's a live scrum. "It's tackling. It's not a thud. There's a lot of energy when they do it."
– Lubick remains excited about the benefits of Zavier Betts and Alante Brown. "Part of their problem has been health, but they're just starting to be healthy.… I expect us and the fans to see more and more of these guys playing."
– Yes, Nebraska sent this piece to the league offices in which the Huskers were called up for offensive pass interference against Buffalo – taking a touchdown on the board. Lubick didn't necessarily agree with PI's offensive appeal against the Huskers in the game against Illinois, but he understood it better. Last week, Nebraska coaches scratched their heads.
Lubick said NU had practice officials and the Huskers weren't called in for picks. "We talk about it, we have officials practicing every day and we try to invoke pass concepts where it won't happen."
– Lubick credited the players with struggling with some difficulties early on run away from Buffalo last Saturday. "The coaches, we get discouraged too. The most important thing we say to our players, and we have to do the same as the coaches, you play one game at a time.… I know the fans are frustrated, we We're frustrated, but if you let that frustration spill over into the next room, you're not doing yourself any good. "
– The big theme of the summer was "do not fight", Lubick said. He felt that they fought against Illinois, but that they have been much better over the past two weeks in this mission of not getting in their own way. "It's not where it needs to be … but it's getting better."
– In general, the current route is better than last year by Husker receivers, believes Lubick. He said there had been more detail by the broads on what to do against various defensive looks. "Especially when you see the area. When to sit, when not to sit."
– Nobody probably does it better on the list as Samori Touré. "His strength is his running, his separation. Knows how to set up a defender, has a great sense of leverage."
– Lubick said the launch Logan Smothers brought into the cold game last Saturday was awesome. "He couldn't have thrown a better ball running."
– Oklahoma defense is very good at creating negative plays and turnovers, said Lubick. "We can't fight. If we don't return the ball. If we eliminate the penalties and just execute our game plan, I feel good about what's going to happen. But without revealing any secrets, it's a challenge."