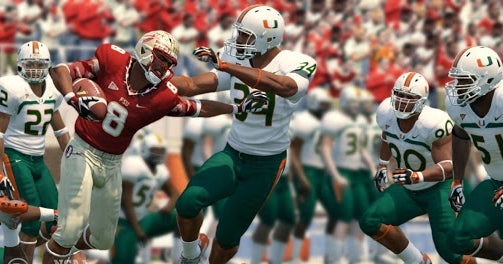 NCAA Football video game report reveals possible release date
College football fans know that the NCAA Football video game will be returning to gaming consoles in the future, but they don't know a set date for the game's return. Fans may have had a clue when it will be Friday, however. Matt Brown, editor of Extra Points, has obtained a copy of the EA Sports / CLC proposal to FBS Schools, which identifies the possible duration of the contract from July 1, 2023 to June 30, 2027, covering four different editions of the game.
Brown's FOIA request also revealed the royalty rate schools will receive from the game, but the numbers have been withheld. The only percentage revealed was the percentage from a previous proposal, which was then 8.5% royalty rate.
In early February, news broke that EA Sports college football video games were returning. But while most fans and teams were eager to get back into the game, not everyone was up for the idea. According to Steve Greenberg of the Chicago Sun Times, Northwestern wants NIL rules created and finalized for players to benefit from before participating. According to its report, Northwestern actually made the decision in February, based on the game's imminent return.
"Some news: Like Notre Dame, Northwestern will not participate in the next iteration of EA Sports College Football until rules are created and finalized that will allow players to benefit financially from the use of their names, images, histories performance, etc. " Greenberg tweeted. "Notre Dame was the first school to publicly announce its decision not to join the more than 100 schools already registered to participate. Northwestern made its decision last month, according to a spokesperson for the sports department….
"Illinois, like the vast majority of FBS schools, has signed on with the Collegiate Licensing Company. According to a spokesperson, Illinois feels that, if new NIL rules are passed, EA intends to change its plan to include players with compensation… "Our approval allows Illinois to be included in the development process, "said the spokesperson," and we would welcome any changes EA might incorporate if NIL were adopted. "
Fans have been clamoring for the game's return for years now and it looks like they'll get their wish come true. To this day, fans are still coming in and updating the rosters on NCAA 14 that other players can download online.
Athlete likeness lawsuits, including the landmark Ed O'Bannon proceeding, ended the game's circulation with the 2014 release, resulting in widespread disappointment among gamers and sports fans across the country. . Courts have ruled that EA Sports used athlete likeness without permission or compensation, and the video game company ultimately paid $ 60 million in settlements to athletes who competed in its matches between 2003 and 2014, according to CBS Sports.
Get the fastest scores, stats, news, LIVE videos and more. CLICK HERE to download the CBS Sports mobile app and get the latest information on your team today.
In April 2020, the NCAA Board of Governors supported amended rule changes to allow student-athletes to "receive compensation for third-party approvals both related and distinct from athletics." At the time, it was not clear whether these changes would bring NCAA football back to video game consoles.
Nick Kosko of 247Sports contributed to this report