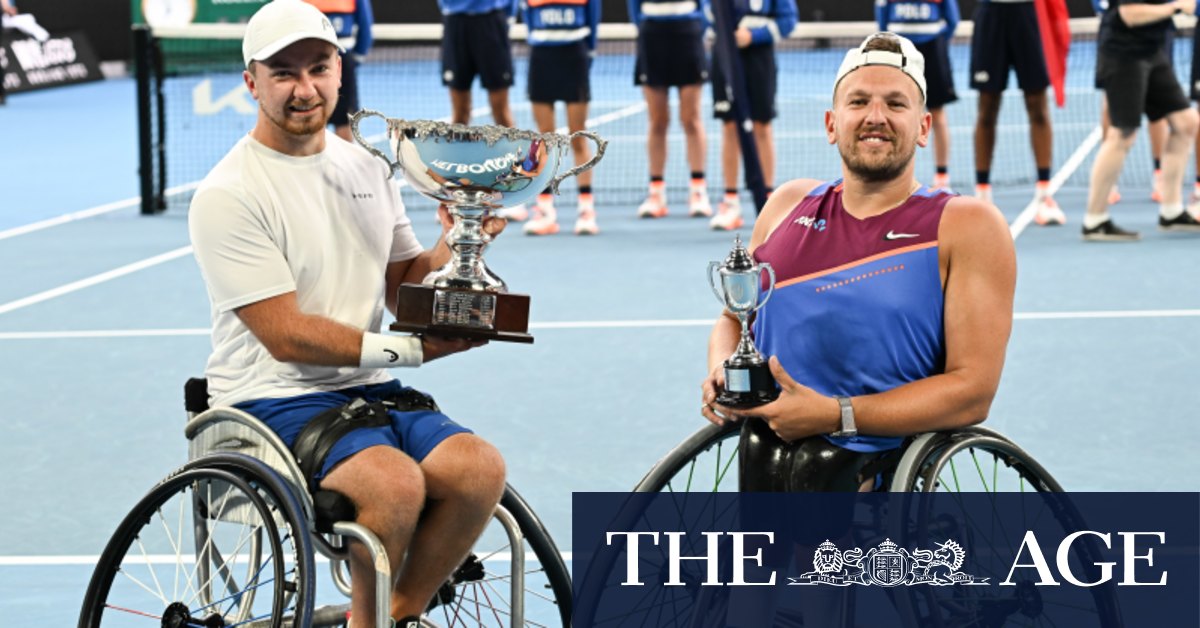 No fairy tale ending for Dylan Alcott in the final tournament
For his opponent, Alcott said, "You'll win a lot – you and Niels."
Typically, on leaving the sport, Alcott had another foreboding word about how the Paralympic movement had transformed his life. Tennis Australia also received special thanks.
"Thank you so much for changing my life, but for supporting [the sport]," he said.
"Every locker room we go to has wheelchair tennis with players watching.
"It started here on this ground [Rod Laver]. I'm very grateful. [But] the greatest thanks to you – both those here today and those watching Vast world of sports."
The endgame was close at first but reached a new level in game 10 when Alcott, serving for the set at 5-4, let his guard down.
Then Schroder did what was required by consolidating, but it wasn't easy. Four times the Aussie had break point chances and four times his young opponent dug deep to keep him at bay.
It was partly his fault. A double fault at 40-15 followed by an Alcott winner created the first two. Alcott continued to threaten, but Schroder held on, holding serve at his next best opportunity.
This gave him real leverage and considerable pressure on Alcott.
Alcott was valiant in his next service game, holding several game points, but Schroder didn't give him an inch and broke serve, taking the set.
Loading
He then won the next six matches, meaning the Dutchman won nine matches in a row to claim the title in style.
At the start of the second set, Melburnian Alcott was doing everything in his power to hang on, trying to prepare to engage with the crowd, but to no avail.
On the show, commentator Todd Woodbridge could feel it was now or never for Alcott.
"It will be one of the biggest wins of his career," Woodbridge said during the critical phases of the second set.
"I have to feel his tank is low with what he's been through for the past 48 hours," Woodbridge said. "I always feel like he shouldn't try too hard."
Catch all the action from Melbourne Park on Nine, 9Gem and 9Now.
Sports weekend expert news, results and analysis sent every Monday. Subscribe to our Sports newsletter.