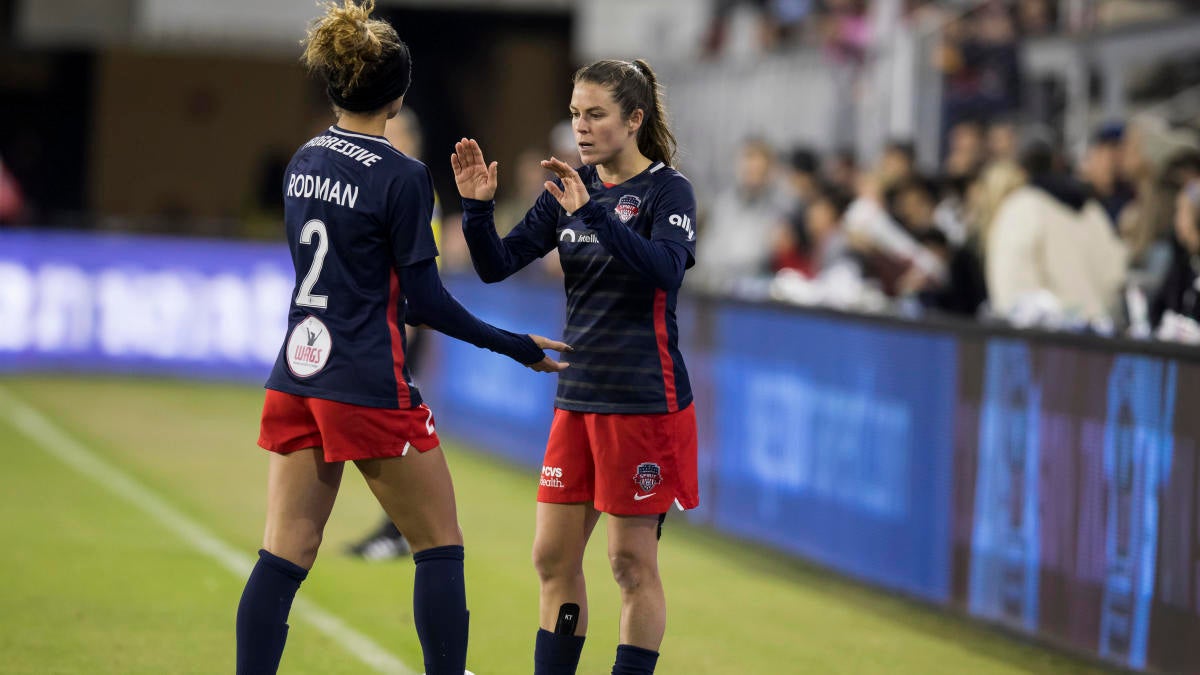 NWSL Finals: USWNT players and future calls featured in Washington Spirit vs. Chicago Red Stars title game
The Washington Spirit will face the Chicago Red Stars for the NWSL Championship on CBS this Saturday. While it might not be the championship game that was on the cards, both teams turned their warm end of season and strong defenses into a final appearance in Louisville, Kentucky. Neither team has won an NWSL title before, so no matter what, we're sure to see a first-time champion crowned.
On the pitch there will also be a host of players from the United States National Women's Soccer Team and we're here to help you with who to look for as you watch the biggest NWSL game of the season on CBS.
Washington Spirit
Kelly O'Hara, left-back (148 caps): One of the national team's most decorated players, O'Hara has been a mainstay of defense for the club and the country. Always in the right place at the right time, O'Hara made impressive playoff blocks to keep Spirit in games despite having worse expected goals than their opposition.
Want more Spirit coverage? Listen below, and be sure to follow Attacking Third, a CBS football podcast dedicated to bringing you everything you need to know about the NWSL and the world.
Emily Sonnett, right-back (61 caps): Another home defender, Sonnett has been in and out of the national team rotation since 2016, but has become a mainstay in recent times. Involved in the 2019 World Cup title squad, Sonnett has since gained momentum, registering five assists for the national team.
Andi Sullivan, defensive midfielder (20 caps): Sullivan's two-way ability has been an integral part of Spirit to get to where they are right now. Just as capable of tackling a tackle as she prepares a goal, Sullivan has been involved in five goals this season. She's been in and out of the national team due to her knee injury in 2017, but after recovery she's been stronger than ever.
Just missed: Ashley Hatch is not far from seeing the national team again after winning the Golden Shoe with 11 goals. Trinity Rodman has also been involved in the youth setup, but has yet to make his senior debut. That said, after a season that saw her land six assists in limited playing time, she too will likely be in Vlatko Andonovski's future plans. Ashley Sanchez is also on the radar after helping run the counter for the Spirit. While they may have been a defense-led team, there are also some solid attackers in the mix.
Chicago Red Stars
Julie Ertz, midfielder (116 caps): There aren't enough superlatives to describe what Ertz does on the football field. Everywhere they go, the team improves and wins. While her counting stats don't go off the page, when you watch Ertz play you can see her leadership and abilities shine through as she orchestrates the team.
Want more coverage from the Red Stars? Listen below, and be sure to follow Attacking Third, a CBS football podcast devoted to bringing you everything you need to know about the NWSL and the world.
Mallory Pugh, forward (67 caps): Pugh has just passed COVID protocol and could fill what should be a huge void for the Red Starts in the final. Pugh was in the conversation for the league's MVP for the Red Stars after a campaign of five goals and four assists. One of the brightest young stars in the league and the national team, she is irreplaceable for this Chicago team.
Alyssa Naeher, goalkeeper (78 caps): Having conceded just 13 league goals, Naeher has quite a pair of safe hands in this game featuring two extremely strong goalkeepers. Keeper has been an evolving position for the national team, but Naeher is very much in the mix for the No.1 jersey.
Casey Krueger, right-back (37 caps): Essentially in direct competition with Sonnett, this is a game that could make Krueger shine even more. She's won almost half of the tackles she's pulled off while ensuring safe progression down the flank.