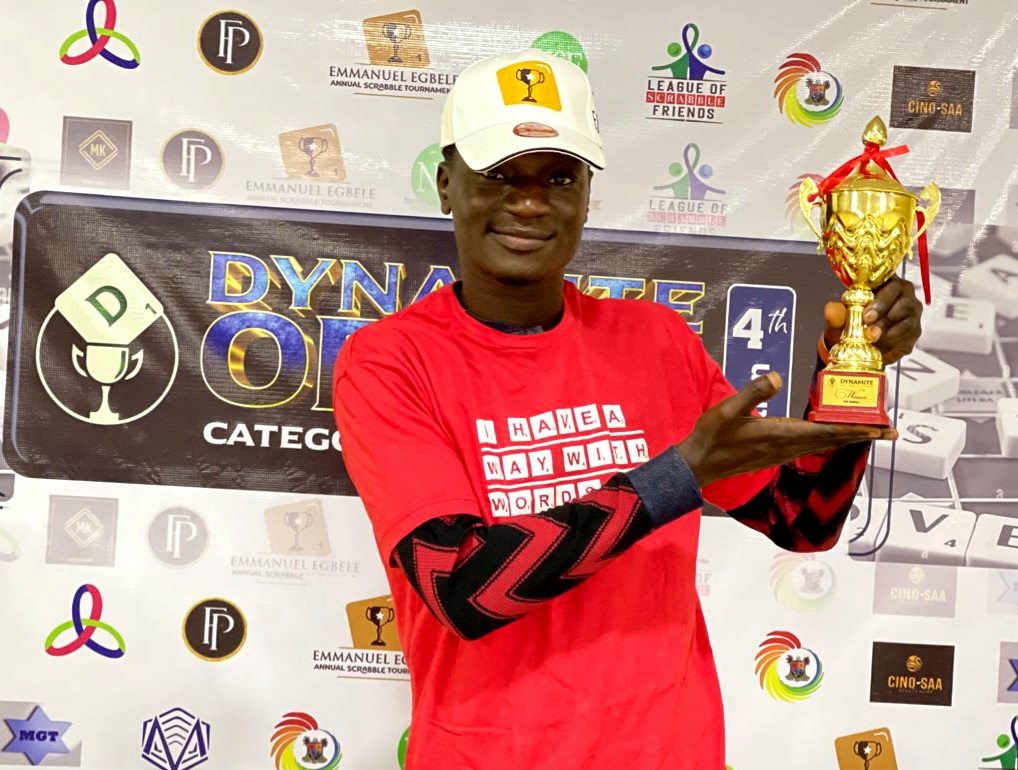 Ogundokun of Kwara State Wins 4th Dynamite Open Scrabble Tournament in Style | Latest Sports and Football News in Nigeria
Akeem Ogundokun won the title of champion of the 4th Scrabble Dynamite Opens tournament which just ended this weekend in Lagos.
The tournament is designed exclusively for new participants, students and players who have a ranking point of 1199 and below.
No. 3-ranked Ogundokun beat a tough rival at No. 7, King of the Hill (KOTH)-ranked Emmanuel Enyi in the intriguing encounter.
Both players were tied on wins in Round 17 as they rode their contest to the wire in the final round.
His prowess earned him first place winning the tournament with 14 wins and four losses with a high cumulative margin of 1783 while Enyi, who reigns as champion of the annual Emmanuel Egbele Scrabble Tournament (EEAST), recorded 13 wins and five losses to finish second. ahead of third John Mosopefoluwa.
Other players who finished in the top 15 received various cash prizes.
A delighted Ogundokun, a student from the University of Ilorin (Unilorin), Kwara State, received a cash prize and the Nemesis Trophy donated by Dr Kayode Fashola.
Obafemi Awolowo University, Ile-Ife became the best school while Priscilla Akhabue won the female category.
Giwa Oluwaseyi won the youth category while 10-year-old Edide Pereowei received the youngest player award.
Meanwhile, organizers highlighted the tournament's high level of fairness and integrity as one player Obinnaya Njikonye was disqualified for his game play.
During the closing ceremony, the Nigerian Scrabble Federation (NSF) South West Coordinator, Emmanuel Egbele, underscored the strategic importance of the tournament which paved the way for the discovery of future talent.
He appreciated the efforts of the organizers to support the tournament which is quickly becoming the biggest competition for players in the Open category.
Initiator, Khaleel Adedeji revealed that he was delighted with the participation, especially as the tournament would play a vital role in preparing some of the players for the upcoming National Sports Festival which is due to be held in Asaba, India. Delta State, November 2-14 of this year. .
"We are very excited about how the Dynamite Opens Scrabble 4.0 tournament ended. The power of words on display over the past two days has revealed that we are on the right track. plays to discover talent and prepare some of these players for the National Sports Festival.
A total of 54 players from different states including Bayelsa, Oyo, Osun, Ondo, Lagos and Ogun participated in the two-day event.
Past winners have moved up the ranks and now compete in the Intermediate and Master categories.


Post views:
48