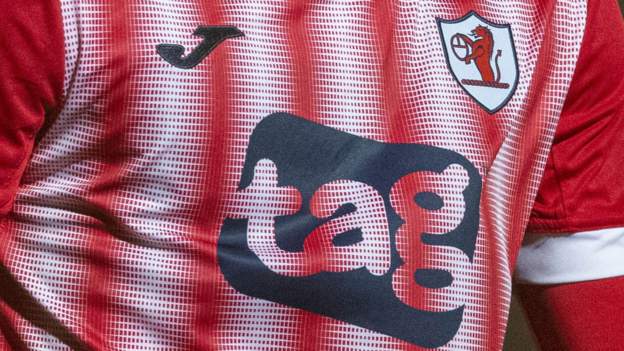 Raith Rovers: sponsor Tag Games to switch to women's teams
Raith Rovers sponsor Tag Games are planning to shift their financial support to the club's women's teams after losing faith in the board following David Goodwillie's signing and "reluctant" U-turn.
Tag Games no longer want their name removed from the club's away shirts, but are sticking to the decision not to extend the sponsorship beyond this season "in the current configuration".
The game company's CEO, Paul Farley, said he was delighted that Raith had "finally understood the meaning" and "reluctantly accepted their mistake".
However, he added that the company 'no longer believes that the current board and management are capable of acting in the best interests of the club and the partnership we have entered into'.
Tag Games are instead "looking for opportunities" with the women's teams, which have squads ranging from under-10s to senior level and have decided to sever ties with the club according to Val McDermid.
The author – who withdrew her backing and financial backing from Raith in protest at Goodwillie's decision – said she would sponsor the new team's jerseys.
"The people who made the wrong decision are still the board"
Former Raith chairman Bill Clark, one of two directors who resigned over Goodwillie's signing, echoed disillusionment with the current regime.
Raith first defended the decision to bring in the 32-year-old former Scotland striker from Clyde, saying it was mainly based on his ability on the pitch, before apologizing and expressing 'bitter regret' for this decision.
"The right decision was finally made, but the question is why wasn't it made at the start?" Clark told Radio 5Live.
"It doesn't look like a big win. They've been under pressure from a lot of fans.
"My feeling is probably the same as Val McDermid's – the people who made the very bad decision are still on the board."
Clark says he would be open to returning to Raith after being a supporter for over 60 years, but would "seek a change in the way the club is run".