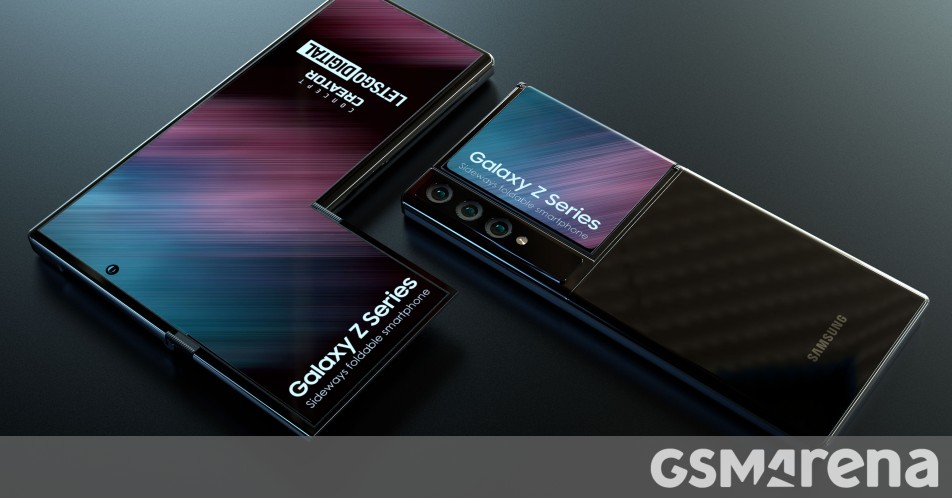 Samsung has patented a phone with a side-folding screen
Samsung's latest patent is strange. LetsGoDigital and Concept creator imagine the latest L-shaped smartphone from the Korean smartphone maker in the form of renders. The patent (filed to WIPO) features a flip-up screen that opens laterally, and this part of the screen rolls up towards the back of the device when it's in the "closed" position.
The features we envision for this type of device remind us of the LG Wing. The Wing's secondary display was sometimes used to open secondary applications in a smaller window, or to display additional information while playing a game or watching videos. This unreleased Samsung device can be used upright or sideways, with the auxiliary display "flap" opening to the left or up, respectively.
Since the screen folds backwards, this part of the screen could potentially be used as a viewfinder for the rear cameras. According to the patent drawings, there is a triple camera setup and an LED flash, but there is no information as to their exact details.
Other details mentioned in the patent include a two-piece battery and the fact that the foldable display would be made of Samsung's UTG (Ultra Thin Glass), the same protective layer used on Samsung's Galaxy Z Fold3 and Z Flip3. .
One of the challenges with a design like this would be to incorporate a folding hinge inside the device, with the screen surrounding it. Samsung has never made an outward folding hinge. Also, the hinge should take up space – possibly the reason for the dual-battery setup.
Tech companies often file patents for devices that never go into production. It remains to be seen whether Samsung will ever release a smartphone with an L-shaped design.
Source